Peru Trip Advisors is happy to give you some information about packing for your trip to Peru!.
Are you visiting Peru soon? We want to share with you the following information:
Domestic and international flights within Peru and South America
When you book with Peru Trip Advisors, it's most likely your airfare includes a piece of checked luggage. We'll never book you on an airfare that only allow handbag luggage.
The regular conditions are:
01 or 02 pieces of 23 Kg. |50 lb.
01 carry on of 8 Kg. (18 lb.)
A personal item like a purse, backpack, handbag.
Train to Machu Picchu
We can book you either with Peru Rail or Inca Rail. In both cases, the regulations are very strict as none of them allow big suitcases on board.
01 bag or backpack of 5 Kg |11 Lbs. Size: 62 linear inches / 157 cm (high + length + width)
01 personal item like a purse, handbag.
Hotels in Cusco can store excess of luggage from travelers spending nights at the Sacred Valley and/or Machu Picchu so they can carry a small bag or backpack.
Special conditions are applied to passengers taking the Inca Trail. Please ask for more information to your travel advisor.
Amazon Lodge
If your trip includes time at the Amazon or at the Rainforest, we suggest you to pack light taking only the necessary clothes for this part of the trip. The excess of luggage can be safely storage at the lodge's headquarters in Iquitos or Puerto Maldonado.
Find more useful tips here!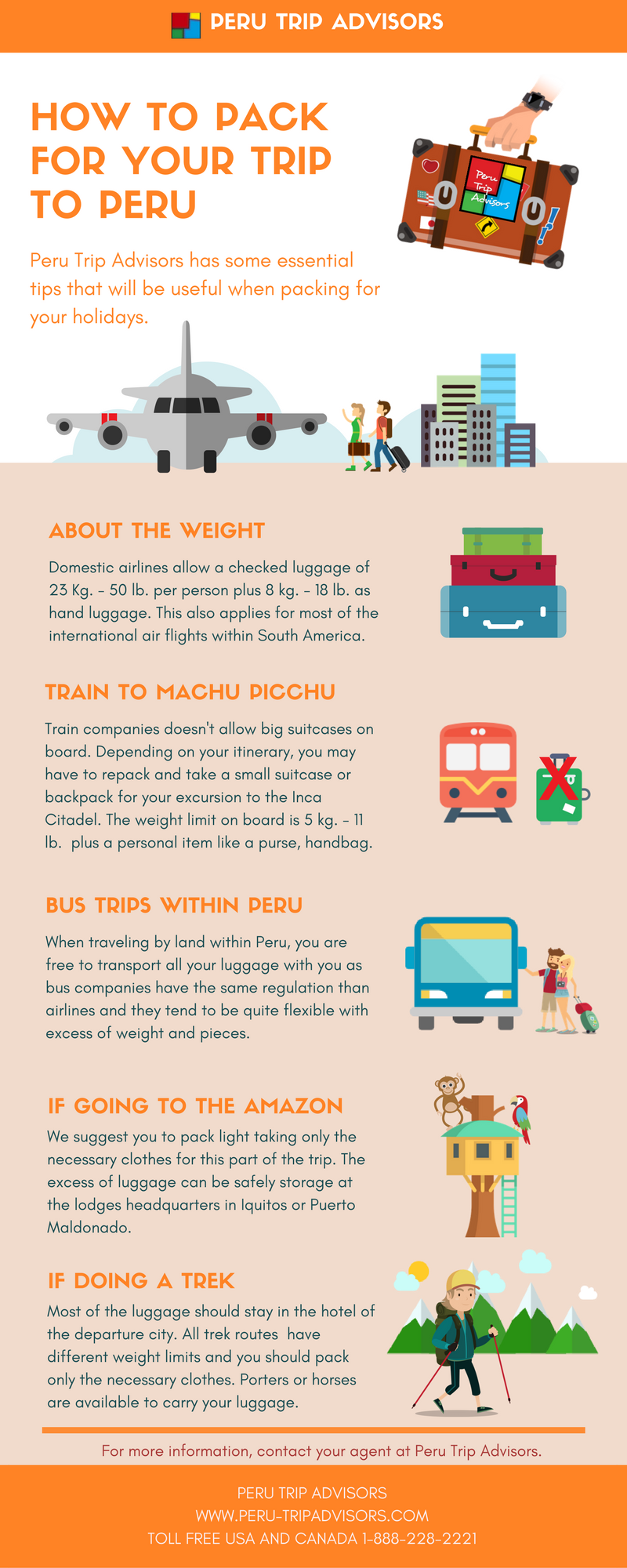 ---
Contact Peru Trip Advisors
Toll Free USA and Canada: 1-888-228-2221
Please follow and like us:
RELATED CONTENT
Full Day Tour to Machu Picchu

Packing for a Trip to Peru

PERU TRAVEL AGENCY – TESTIMONIALS – PERU TRIP ADVISORS

How to plan a trip to Galapagos

New regulations for your Machu Picchu Excursion

How to Get to Antarctica

TRIP TO GALAPAGOS

TRIP TO PATAGONIA